WELCOME TO ALL PETS & PAWS

At All Pets and Paws we celebrate the unique relationship between you and the ones you love. We understand that your pet is an important part of your family and we strive to treat each and every patient as if they were our own. We also understand that times are tough and budgets are stretched and for this reason, we strive every day to provide our clients with affordable services while maintaining a high quality of care.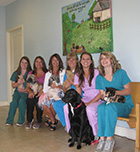 We serve the West Georgia community including Carrollton, Villa Rica, Bowdon, Bremen and East Alabama. We offer a wide range of services, such as general surgery, soft tissue surgery, internal medicine, dermatology, radiology, vaccines, laboratory, dental care, and the highest quality pain control.
Preventive Medicine & Wellness
Exams are Very Important
Your pet may not be showing outwardly signs that they are sick. From a routine yearly exam, a veterinarian can provide valuable information about the health of your pet. Disease prevention is always less costly than dealing with the treatment of a disease once your pet has developed it.