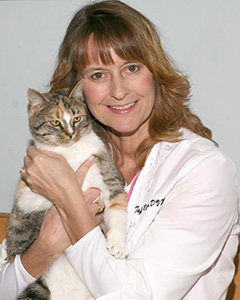 Hello! My name is Dr. Taffy Shields Rhyne. I am the proud owner of All Pets and Paws Animal Hospital. I am a 1992 graduate of the University of Georgia College of Veterinary Medicine.  I have specialized in small animal medicine since graduating. Having grown up in Carrollton, I returned to the area in 1996 to open my first animal hospital. Seven years later, after starting a family, I sold my first hospital in order to be home with my children.

In March, 2009 I started All Pets and Paws Animal Hospital with a little different outlook than before. During the time spent at home raising my family, I had time to reflect on the purpose of my life. During this time of reflection, I developed a new mission statement for All Pets and Paws. My purpose here is to glorify God in all that I do and to serve Him with all my heart. Mathew 22:37-39 says "Jesus said unto him, Thou shalt love the Lord thy God with all thy heart, and with all thy soul, and with all thy mind. This is the first and greatest commandment. And the second is like unto it, Thou shalt love thy neighbor as thyself. "I further believe God has called and equipped me to be a veterinarian. Ephesians 4:1-2 states ……"walk worthy of the vocation wherewith ye are called, with all lowliness and meekness, with longsuffering, forbearing one another in love."

I remember at a very young age dressing my stuffed animals with doll clothes and treating them like my babies. When I was 12 years old my Akita had her first litter of puppies on the family couch and I had to assist in the birth of the puppies. I called our family vet and told him I was home alone with my 90 pound show dog that was giving birth on our couch! He was very kind and told me what to do to help her. I knew then that being a veterinarian was what I wanted to be when I grew up.

One of the many things I enjoy is the different pets and people that I meet every day. My favorite cases are the sick ones; I love the challenge of trying to figure out what is wrong. I also enjoy the fact, that no matter how long I have been in practice, there is always something new to learn and experience.

Outside of work, I enjoy taking care of my husband, our three boys, our Golden Retriever, Buddy, and our lovely cat, Blaze. In my spare time, I enjoy hiking, reading, tennis  and my newest obsession, Candy Crush ☺.

I look forward to the opportunity of meeting you and your four legged family members soon!